Probably one of the most unlikely cars ever to compete in international motorsport was the Austin Maxi. Desperate to rekindle the Rally glory of the Mini Cooper, British Leyland sent two works Maxi's and 2 privateers into battle for the second 'World Cup' in 1970.
Puff the Magic Wagon, driven by three amazing women, was one of these cars. This is the story of how, original driver, Bron Burrell and Project Shop restored her and hit the international classic car rally scene nearly 50 years later.
Beginnings and the 1970 Daily Mirror World Cup Rally
Originally picked from the showroom floor in 1969 MCE 7G was a 1500cc version of Austin's new Maxi! It was to be prepared by dealer group Marshalls of Cambridge for the hardest ever Marathon Rally the world had ever seen – The 1970 Daily Mirror London-Mexico World Cup Rally.  With over 100 cars starting from London, only the first 50 to arrive in Lisbon would be shipped to South America to continue the rally, and at the end, less than 25 cars were to complete the rally and enter Mexico City.
[/ux_text]
Bron and Project Shop Meet at Race Retro 2016
In 2016 Project Shop were asked to prepare 'The Beauty Box' a 1970 World Cup Rally Car originally driven by Jean Denton, Pat Write and Liz Crellin for its then owner David Scothorn. David was to drive the car on the Terre Di Canossa rally through the magnificent Tuscany countryside that year and met Bron at Race Retro.  In June 2016 Bron bought Puff and a plan was hatched to restore her so she could be raced in endurance rallies once again. Before the end of 2016 Bron had booked Puff up for some static events including the NEC Classic Motor Show. Although Puff had to stay in one piece for this period, we had some time to assess her condition.
January 2017 – Reviving Puff!
It was clear from the outset that if Puff was any other Austin Maxi then it would be time to put her to rest.  Although she looked presentable, her mechanical and structural condition were anything but.  Every rubber component on the car was completely shot. The fuel tank was disintegrating, the brakes were seized solid, the hydrolastic suspension leaked from every joint, the electrics were rodent damaged, the engine was tired and the gearbox syncros were shot.  Added to this there was a lot of rot in the inner and outer sills.
We set about breaking down each of the problem areas, making countless lists of parts and reconditioning jobs that needed to be taken care of before the car could be put back together.
Parts were sourced through the wonderful Ernie at AGM Spares
Hydrolastic units were reconditioned at a specialist
Friends David and Frankie carried out the welding and paint work
In the meantime, the engine and gearbox were rebuilt in house by the two Johns and all the subassemblies got ready for the rebuild. Zane, who was a new member of staff at that point rolled up his sleeves and with a very tight deadline started rebuilding Puff. The plan was for Bron to 'relive' the first stage of the World Cup by taking part in the London to Lisboa Hero endurance rally, which took part in the last week of April, before this she had booked a 'trial rally' on the Isle of Mann and had press and filming days planned. In the end Zane had just 4 weeks to get the car from an almost empty shell into a car that could drive 2,500 competition miles in one hit.
Competition time – "I'm not going to potter around like a Granny"
We knew Bron was a force of nature from the outset, but I don't think that one of us realised how much energy she had, or how many events we were going to end up competing in together! In their first full year back in the car, Bron, Tina (Tina only 'competed' on the London-Lisbon, and rode in Puff at Race Retro and FoS) and Puff competed in:
The Three Legs Of Mann Hero Event – March – navs Seren & Elise Whyte
Race Retro, Stoneleigh – February
London to Lisboa Hero Event – April – navs Seren Whyte and Tina
Goodwood Festival of Speed Special Rally Stage – June
Sherborne Classic Car Show – July
HRCR Vale of Clwyd Historic Rally – Sept
Goodwood Revival – Sept + Footman James Classic Car Show
HERO Challenge Bicester – nav Freda Croasdell
Devon Classic Car Rally – nav  Suzanne Barker
Hero RAC Rally of the Tests – nav  Suzanne Barker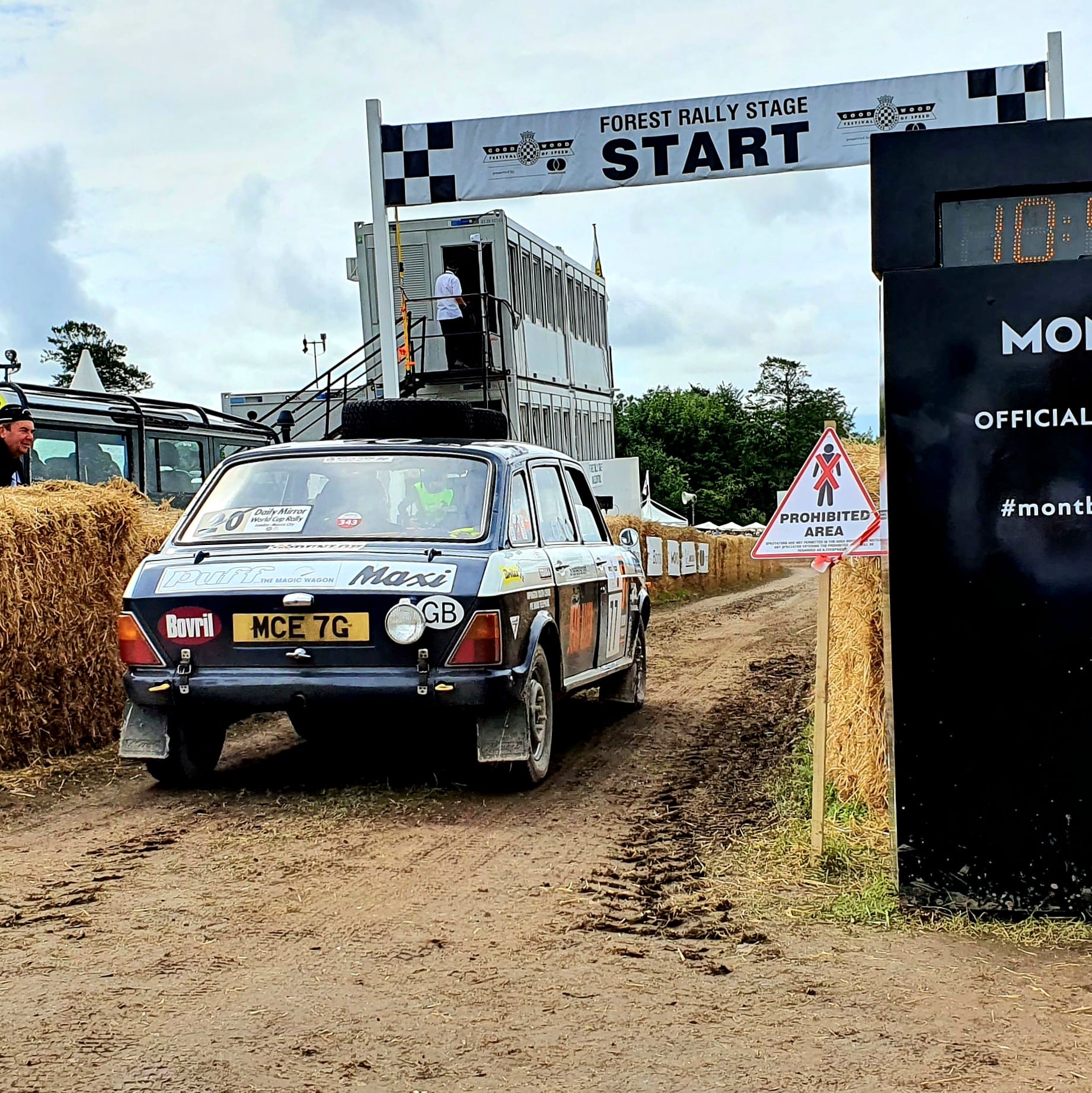 It would be fair to say that 2017 was a baptism of fire! We learnt a lot about, not only preparing a rally car, but preparing classics for endurance and reliability. Puff finished every event, but they were not without their problems.
The engine suffered from a lack of power, which was cured with 123 electronic ignition and K&N air filters
We went through 'standard quality brakes' in a day, which were cured with Green Stuff pads and better quality discs
Starting and charging became an issue, which were cured with a WOSP starter motor and alternator
The original magnesium Minilites cracked and had to be replaced with steel wheels for the rough events
The original seats collapsed where the frame had rotten out and needed rebuilding
2018 – Puff Flys Again! 
If we thought 2017 was going to be busy, then 2018 was flat out. Between February and November Bron and Puff with Tina and other guest navigators were out 12 times competing in the following events:
Race Retro, Stoneleigh
Practical Classics Restoration Show
Speed Queens – Friends reunited evening at Beaulieu
Hero Summer Trial
3 Castles Rally
Goodwood Festival of Speed
London to Sydney World Cup 50th Anniversary
Goodwood Revival
Hero Challenge
Lombard RAC Rally
HERO Rally of the Tests
After every event we used the knowledge we had acquired to make small changes to Puff. We wanted to make her competitive, strong and reliable, but not at the expenses of her history and provenance.
6265 Competition miles completed!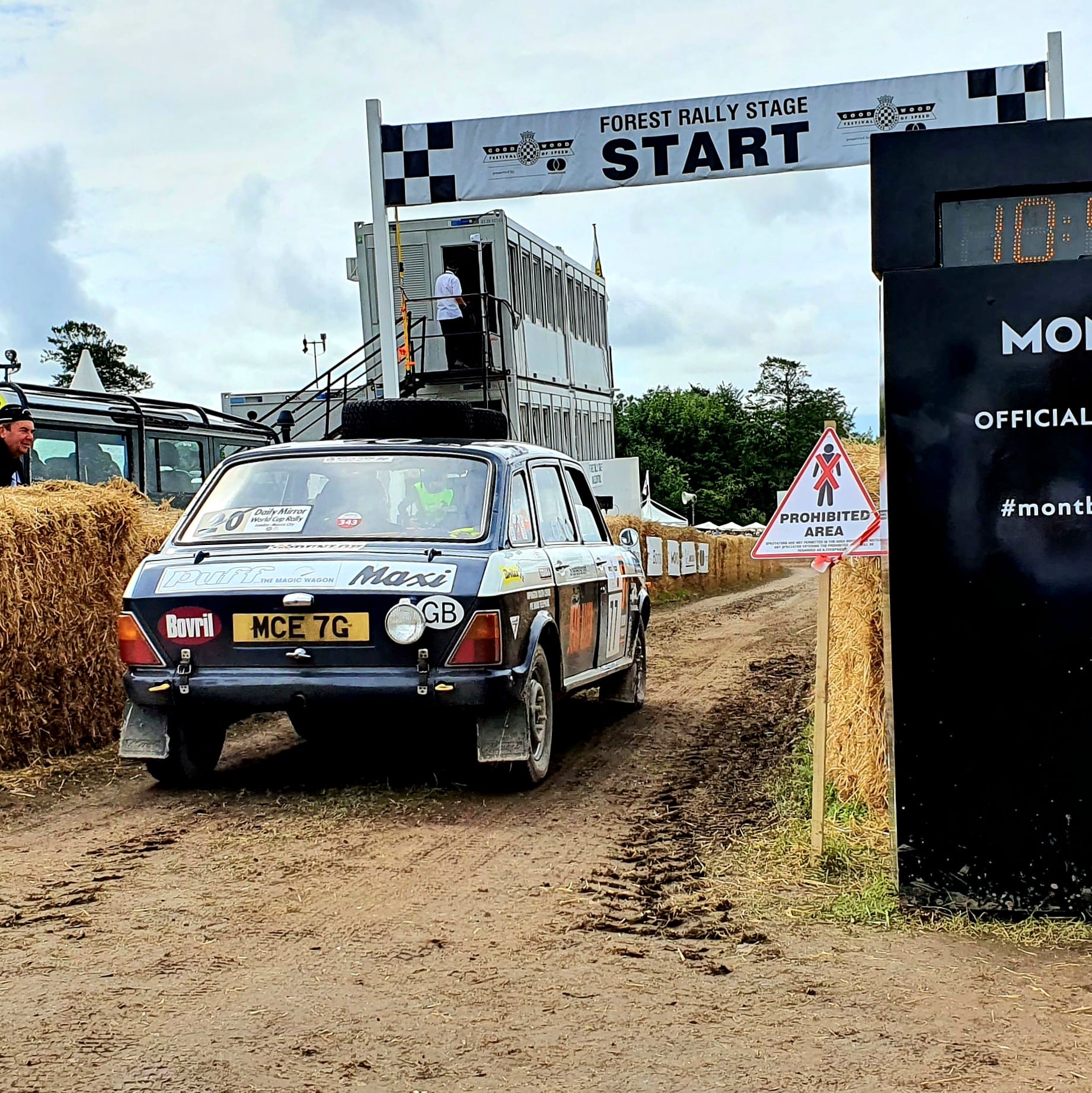 2019 – Getting ready for the 50th Anniversary
Bron's stated aim, right from day one was to complete the 1970 World Cup Rally.  Originally Puff had finally broken down in Argentina. Unable to continue, the ladies had to find their own way to Mexico, leaving the little Maxi to be recovered at a later date. The idea was to organise a historic rally that would see Bron, Tina and Puff reunited with other competitors to relive the event 50 years on.  Because of all the planning 2019 was going to be a less arduous season, but we still managed 5 events:
Race Retro, Stoneleigh
Practical Classics Restoration Show
Convoy to Nuffield Place Cowley Convoy
Cambridge Classic Car Run
Maxi 50th Anniversary Cowley
Three Castles Trial
Festival of Speed at Celtic Manor
Goodwood Festival of Speed Forest Rally Stage
HERO Summer Trial
HERO Challenge 2
BL Autumn Rally Show
Lombard Rally Bath
NEC Classic Car Show  HMRG stand
2020 – A great start then… LOCKDOWN!
After a lot of preparation in 2019 we were ready for Puff's BIG BIRTHDAY! Sadly it was not to be, there had been difficulties getting the relevant permissions to run a competition event in South America and then, just after Race Retro in February COVID-19 hit the world.  Race Retro would turn out to be our last event till HERO Summer Trial in Telford and then Goodwood 2021.